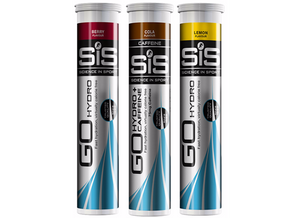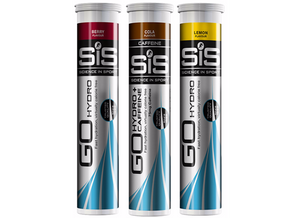 Hydro
Hydro is designed to ensure you are effectively hydrated to produce your best performance. As an effervescent tablet that readily dissolves in plain water, it represents a highly practical approach (simply drop one tablet in your 500 ml water bottle) without the calories.
Hydro meets your sodium requirements at a specific concentration (30mmol/L) that is scientifically proven to produce superior hydration compared with water alone. It was developed to keep the British Sailing team optimally hydrated at the 2008 Beijing Olympics. Simply drop a tablet into water for effective hydration, with virtually no calories, before and during sports.
Simply drop in water to provide a high electrolyte drink
High in sodium to help promote hydration
When hydration is required without the added calories
Contents: 20 x 4.3g Tablets
Recommended Usage:
Consume 500ml of SiS GO Hydro 3-4 hours prior to your event with a further 250-500ml in the hours before starting. During exercise of a shorter length where carbohydrate intake is not necessary, consume 500 ml of SiS GO Hydro per hour. If aiming to combine hydration and energy delivery, consume SiS GO Electrolyte with the SiS GO Gel range.
Directions for Use:
Add 1 SiS GO Hydro tablet to 500ml of water and let it dissolve. Once prepared consume within 24 hours. Do not consume more than 4 tablets per day.
Benefits:
Electrolytes including sodium, potassium and magnesium are lost through sweat and need to be replaced in order to help the body maintain fluid balance, alongside an appropriate fluid intake.
Suitable For: Vegans, Vegetarians, Lactose free, Gluten Free, Wheat Free, Nut Free, Soya Free
Related Products
Related Products