MUC-OFF - Wash Protect and Lube Dry KIt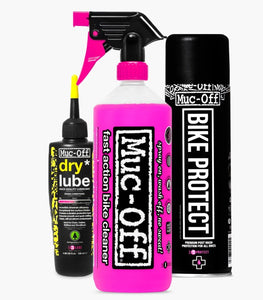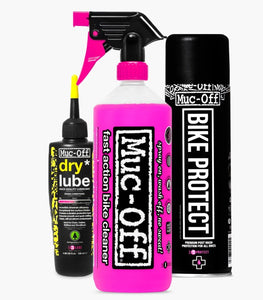 MUC-OFF - Wash Protect and Lube Dry KIt
When maintaining your bike, we recommend you follow our 3 stage process: Clean, Protect and lube. This bundle offers this, ensuring your bike is ready for the summer and dry conditions.
Using our state-of-the-art Nano Tech formula, Muc-Off cuts through grime quicker than you can say "OMG!" regardless of the weather or riding conditions. This classic pink Bike Cleaner has incredible cleaning power because it contains revolutionary Nano Technology that breaks down dirt and grime on microscopic levels, while also caring for your bike's delicate finish. Because we use the finest ingredients and surfactants, our Muc-Off formula is a closely guarded trade secret.
Bike Protect is the ultimate liquid bicycle protection. Preserve and freshen your bike with Bike Protect's incredible water dispersing action! It's a perfect 'all over', after-wash corrosion inhibitor due to its extremely high oil content. This increased oil content creates the finest bike protection spray on the market. It drives out moisture and leaves a sparkling, non-sticky protective layer on your frame, drive chain, metal parts and paintwork. It's ideal to spray onto your chain to drive out moisture before you apply any of our brilliant Muc-Off chain lubes.
Muc-Off Dry Chain Lube is a durable, deep penetrating chain lubricant and oil that's formulated to hold up in extreme conditions that would destroy ordinary chain lubes. Muc-Off Dry Lube is a highly versatile, dry weather chain oil that has state of the art penetrative qualities to ensure that the lube is driven deep into each chain link's core. And there's no need to worry because Muc-Off Dry Lube is biodegradable*, so it's safe for you, your bike and the planet.
Related Products
Related Products