MAGICSHINE - ALLTY Mini Front & Rear Light Combo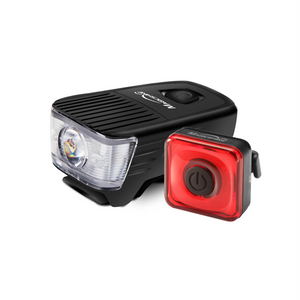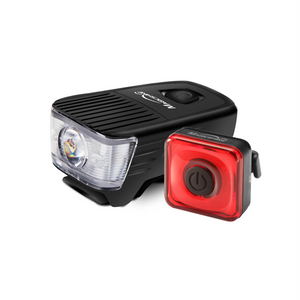 MAGICSHINE - ALLTY Mini Front & Rear Light Combo
ALLTY MINI Small bike light is designed for urban cyclists and commuters, designed for optimized performance at a very affordable price range. Ideal for city commuters or as a back up bike light, packaged with the SeeMee20 will see you visible all day and night
AlltyMini Features:
2 brightness modes and one flash modes.
Runtime ranges from 1.5 to 5.5 hours depending on brightness.
CREE XP-G2 for 300 lumens of verified output.
Large area heat dissipation sink and careful calibration allows max output to be maintained throughout the runtime of the battery life.
USB rechargeable and Easy to Read Power Gauge
1.5 hours charging time on 1200mAh capacity integrated battery. Conveniently USB rechargeable anywhere.
Intuitive power gauge on the power switch, green light for >30% and red light for <30% remaining capacity.
IPX5 waterproof rating providing protection under most weather conditions.
Ultra Small and Lightweight
SEEMEE20 Features:
USB RECHARGEABLE BIKE BLINKER-- SEEMEE 20 bicycle tail light is rechargeable via Micro USB. A full charge will take 1.5 to 2 hours under 5V/500mA.
SUPER SMALL AND LIGHT WEIGHT -- Weighing only 17g, and the size not much bigger than a quarter, SEEMEE20 is perfect for casual cyclists and even kid's bikes.
SPECIAL MOUNTING DESIGN--Mounting base on the rear light is built at an angle of 17 degrees, once mounted, the rear light points straight backwards and not towards the ground.* MODES--One constant and 2 flash modes in 3 different brightness settings .
AlltyMini Technical Features:
LUMEN:300 LM
BATTERY:3.7V 1200mAh
RUNTIME: 1.5H
WATERPROOF:IPX5
SIZE: 68x38x31mm
WEIGHT:64g
SEEMEE20 Technical Features:
Lumen:20
Runtime: 1.4H-21.7H
Battery:240mAh
Waterproof: IPX5
WEIGHT:17g
Related Products
Related Products