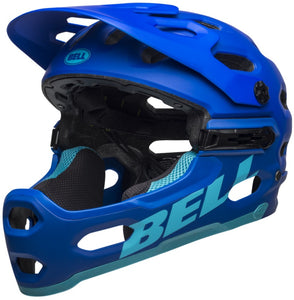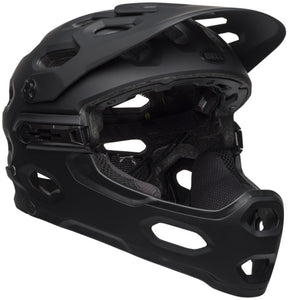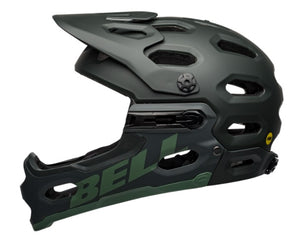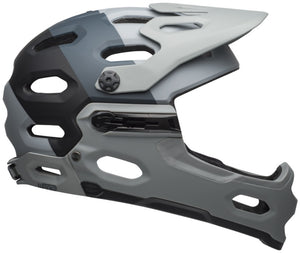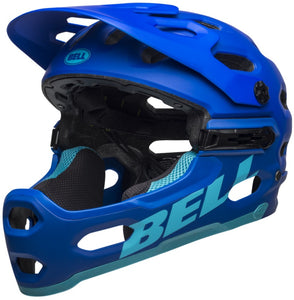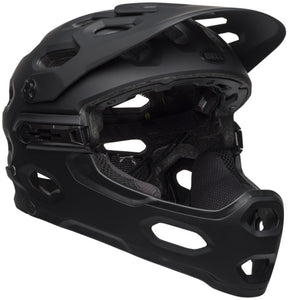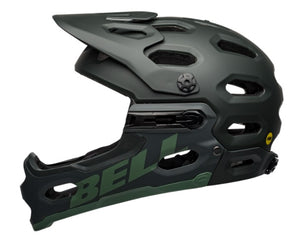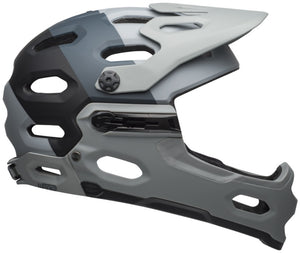 SUPER 3R MIPS
It's called all-mountain riding for a reason. With its removable chin bar, the Super 3R adapts to every trail riding situation - from long, steep climbs to all-out descents.
ALL-MOUNTAIN, TRANSFORMED
The Super 3R gives you everything you need to own the trail. It's designed for the ever-changing needs of trail riding with a unique removable chin bar technology that basically gives you two helmets in one. You can remove and carry the chin bar in your pack during long climbs, and then lock it in place for that added boost of confidence on technical terrain. The easy, tool-free installation and removal process takes seconds. The Float Fit system is lighter and more comfortable with a rubber overmolded dial, plus this year No-Twist Tri-Glides have been adopted for added ease of adjustment. Other trail-specific features include our GoggleGuide adjustable visor, a breakaway camera mount and Overbrow Ventilation. The Super 3R includes MIPS (Multi-Directional Impact Protection System), which can provide an additional measure of protection in certain impacts.
SPECS
MIPS MIPS (MULTI-DIRECTIONAL IMPACT PROTECTION SYSTEM) - A LEADING SLIP PLANE TECHNOLOGY DESIGNED TO REDUCE ROTATIONAL FORCES THAT CAN RESULT FROM CERTAIN IMPACTS
SAFETY WRAPAROUND CHIN BAR: A REMOVABLE PROTECTIVE CHIN BAR, DESIGNED FOR TRAIL RIDING ADAPABILITY -- NO TOOLS REQUIRED. WARNING: ALL CHIN BARS HAVE LIMITS, AND SERIOUS INJURY OR DEATH CAN OCCUR. READ OWNER'S MANUAL CAREFULLY BEFORE USING YOUR HELMET.
CONSTRUCTION FUSION IN-MOLD POLYCARBONATE SHELL - A PROCESS PIONEERED BY BELL BONDS THE HELMET'S OUTER SHELL TO THE EPS FOAM LINER TO CREATE A STURDIER HELMET.
SPORT CYCLING
VISOR GOGGLE GUIDE ADJUSTABLE VISOR: ACCOMMODATES BOTH GOGGLES AND GLASSES
NUMBER OF VENTS 23 HELMET VENTS, 4 BROW PORTS, 6 CHIN BAR VENTS
INTERIOR/LINER TYPE X-STATIC PADDING - QUICK-DRYING MATERIALS, WOVEN WITH REAL SILVER FIBERS, INHIBIT GROWTH OF ODOR-CAUSING BACTERIA AND FUNGI
VENTILATION TYPE OVERBROW VENTILATION FEATURES INTAKE PORTS ON THE BROW OF THE HELMET TO USHER IN COOL AIR AND PUSH IT THROUGH THE AIR-CHANNEL MATRIX FOR FULL-HEAD VENTILATION
GENDER UNISEX
FIT SYSTEM FLOAT FIT - A MINIMALIST, LIGHTWEIGHT FIT SYSTEM WITH AN EASY-TO-TURN RUBBER OVERMOLDED DIAL FOR ADJUSTMENTS
PRODUCT WEIGHT 784 GRAMS (SIZE M)
Related Products
Related Products